It's not about the
nodes

themselves,
but the space between them
We make air quality monitoring simple and affordable
Reliable and cost effective air quality monitors means


lots & lots of measurements
TELLUS utilizes existing EPA-compliant air quality monitors to create calibration factors and produce highly accurate air quality measurements at a hyperlocal resolution. This method expands the reach of local EPA-compliant monitors and offers engaging visualizations that accurately capture air pollution measurements across the entire region of interest in near real-time.
The AirView sensor network offers full-service management with robust quality control processes that include all maintenance, in-field seasonal calibrations, outlier detection and cross-validation powered by TELLUS Coredi
Simply plug it in and connect to Wi-Fi
Capture measurements of particle pollutants plus oxidizing gases, smoke, and urban air pollution including vehicle emissions in real-time with over one year of onboard storage capacity at the lowest price point in its class.
"…it's not about the nodes, but the space between them." Visualizations for the public that are simple, accurate, and understandable. Expand the reach of local regulatory instruments to enable massively higher resolution at micro-climate levels. Understand your air quality and identify pollution sources.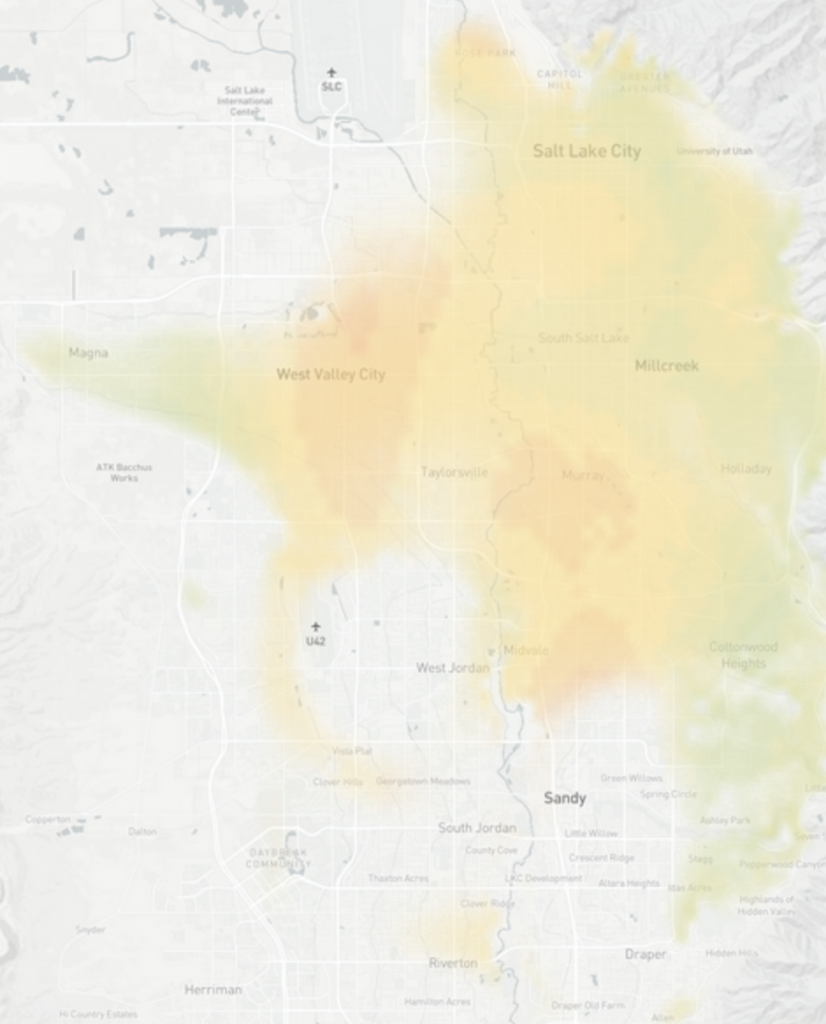 No matter your needs, we have you covered
Be aware of the air you are breathing where you live, learn, work, and play.
The worst air quality you experience every day just might be in your living room. 
Most people spend 80% of their time indoors. Trapped, stagnant air and poor ventilation combine to create poor air quality where you live and breathe.
The air around your neighborhood may look clear, but that doesn't mean it's pollution free.
Know when it's safe for you and your family.
EPA studies found indoor air pollutants were generally 2 to 5 times greater than outdoor pollution levels.
In some cases, indoor air pollution was 100x greater.
Understand the air inside and around your home
Simply plug them in and connect to your home's Wi-Fi.
Within minutes, you will be able to see how the air outside compares to the air inside your home.
FOR COMMUNITIES AND RESEARCHERS
Engage with your community using easy-to-interpret visualizations
TELLUS is recognized for our automated rigorous outlier screening process, calibration factors specific to the location, season and pollution events (e.g. wildfires), powered by TELLUS Coredi accurately modeling pollution levels across the entire region of interest.
Make the workplace safer with TELLUS' innovative technology
Improve employee safety with air pollution monitoring that is easy to understand, share and visualize.
Hyperlocal measurements enable you to make decisions to decrease pollution exposure and provide a safe work. environment
See why others are choosing TELLUS
Alternative sensor networks typically provide inaccurate air quality measurements that are difficult to interpret
2-way, 3rd party integration for indoor and outdoor applications.
Enhance data accuracy and quality of existing sensor network.
Verifiable calibrations unique to each location, season and event that are directly traceable back to regulatory measurements.
Rigorous outlier and cross validation.
Data fusion algorithms that help viewers integrate regulatory and crowd-sourced measurements while maintaining data quality. These algorithms account for differences in space, time, and elevation.
Leverage information from onboard sensors to produce accurate, reproducible estimates for pollutants, which are not directly measured by the onboard sensors.
Download the TELLUS app today!
The simplest way to check your air quality and receive pollution exposure notifications.
Access your sensors, your air quality data, link smart devices, stay up to date on new developments, and more!